Build a network of women
who lift you up
OneUpOneDown is a specialist mentoring programme designed for supporting women to progress as leaders. As well as supporting women with career-specific skill development, our programme focuses on helping women to build themselves up to step into their full potential:
"The mentor I've been matched with has taught me a lot....I feel privileged to be a part of this program."
Andressa Henriques, mentee
Fullstack Software Engineer at Parfin
Mogi das Cruzes, São Paulo, Brazil

"Thanks to my mentor I'm really improving my strategies, my personal and professional goals"
Mouna ALOUI, mentee
Software Engineer at SAGEMCOM
Tunis, Tunisia
Think we're just talking about the value for mentees?
One of the surprising and wonderful realizations we've had since starting OneUpOneDown is that the experience of being a mentor is as valuable as being a mentee! Most people think that mentorship is primarily for the benefit of the mentee. However, this is not the case. It's a rich learning and joyful experience for both mentor and mentee when the match is a good one.
"I loved my first mentor/mentee relationship, I thought we were well matched in terms of our experiences and interests"​
Kathryn (Walker) Street, mentor
Senior People Partner | Connector
Auckland, New Zealand
"I don't know what their secret sauce is, but I could not have been happier with the first mentee that OneUpOneDown matched me"
Marisa Sires, mentor
Digital Product Leader | Remote Team Leadership
New York, United State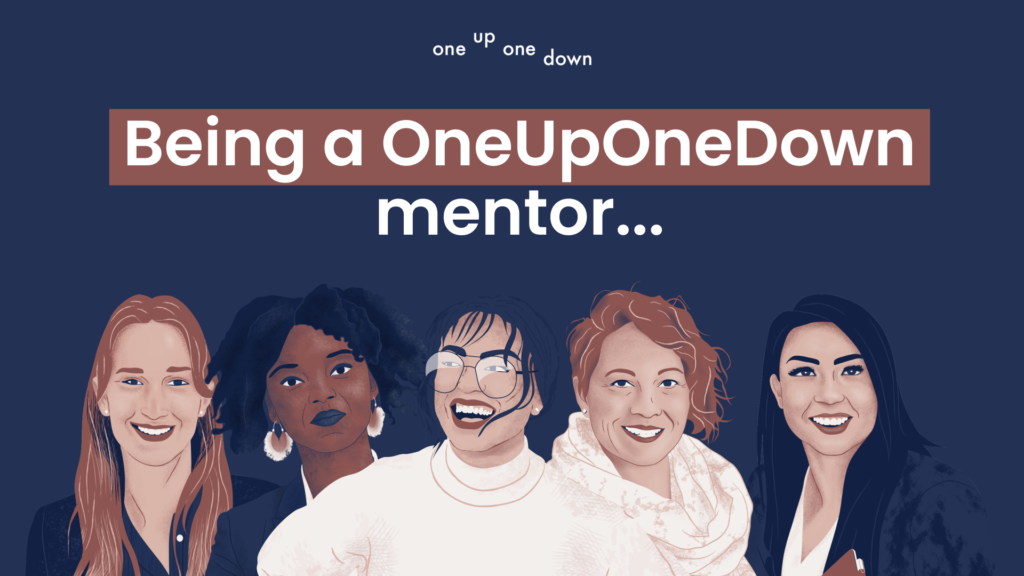 One of the surprising realizations we've had since starting OneUpOneDown is that the experience of being a mentor is as...
Read More
Near-peer mentorship is less formal than traditional mentoring
We match mentees with mentors who are a couple of steps ahead in relevant areas of learning and development. This means the learning is fresh and mentors can more easily draw from their own experience to understand and support the mentee. For the mentor, it's an engaging and a great opportunity to reflect on their own experience.
Each match is short and focused
OneUpOneDown matches last three months, with four meetings between mentor and mentee within this time. This keeps the relationships focused and the goals obtainable. It also maximised the value exchange between mentor and mentee. Once a match is complete, both mentor and mentee can be matched again. This way, you have access to ongoing learning and development through mentorship.
Access a global network of ambitious women
Women from all over the world are signed up to OneUpOneDown (add map), across many industries including:

"This platform and mentor has been that catalyst in addressing those doubts, calming my fears, addressing my concerns and in showing me the right way."
Nikki Bakurupanda, mentee
Project Management | Customer Experience
Barcelona, Catalonia, Spain
"My mentor was an incredible match, based on both her personal and professional experiences"
Amanda Michel, mentor & mentee
MBA Candidate at INSEAD
Fontainebleau, Île-de-France, France
According to studies mentorship increase:
> Emotional awareness
> Accurate self-assessment
> Self-confidence

> Self-control
> Trustworthiness
> Adaptability

> Achievement Drive
> Commitment
> Initiative

> Empathy
> Developing others
> Leveraging diversity

> Leadership
> Communication
> Collaboration

Together we can create a more collaborative world
We believe that by transforming the way we connect, and with more women in leadership positions, we can transform the way business, politics and the world is run.