We have some exciting product updates to share with you. We now have 400+ women signed up to be matched, from over 20 countries, which is incredibly exciting. To date, we have been making almost all of the mentor matches manually. We have a lot of data to go through to make a match, which has meant that the time it's been taking to make a match is much longer than we all would have liked.
So we've been developing software to speed this process up. We'll still manually approve the match suggestions, but the first 80% of the work will be done by the automated matching algorithm. ????
This will be going live in the next two weeks, but first, we need some additional inputs from you.
What does this mean for you?
We'll need you to provide some additional tags to describe your current experience and/or desired experience. You'll find these extra tags in the 'Preferences' window of the app.
Please log in and update these details as soon as you can.  We're happy that this update will allow us to make matches faster. If you have been waiting to be matched for a while now, we appreciate your patience and will do our best to propose a match as soon as we can. 
We've shared some other product updates and new content below.
Other Product Updates
1.New Questions on 'My Profile' page: We've updated the design of the My Profile page and added some additional questions that will improve the matching process. Tip: don't forget to add a profile picture!
2. New 'Company Culture' Questions added to Preferences page: As mentioned earlier in this email, we've added new questions to help us make matches based on the industry, company type and company size. Please make sure you fill out these new questions. We'd love to hear your feedback if you have any. See it in action.
3. You can now view any new mentor or mentee proposals in the web app! This means, as well as receiving an email when we've made a match for you, you'll also be able to see and approve the match in the web app. See it in action.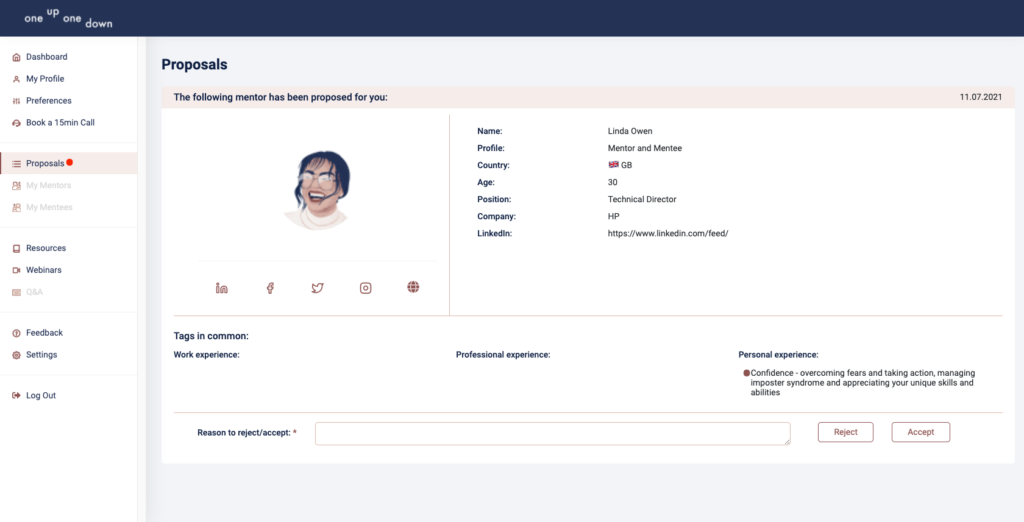 4. Keep track of your mentors and mentees in the web app: You are now able to see your mentor/mentees profile in the dashboard. This window will show a record of your mentors and mentees over time. Soon we'll be adding more exciting functionality to support your relationships, accountability and ongoing learning.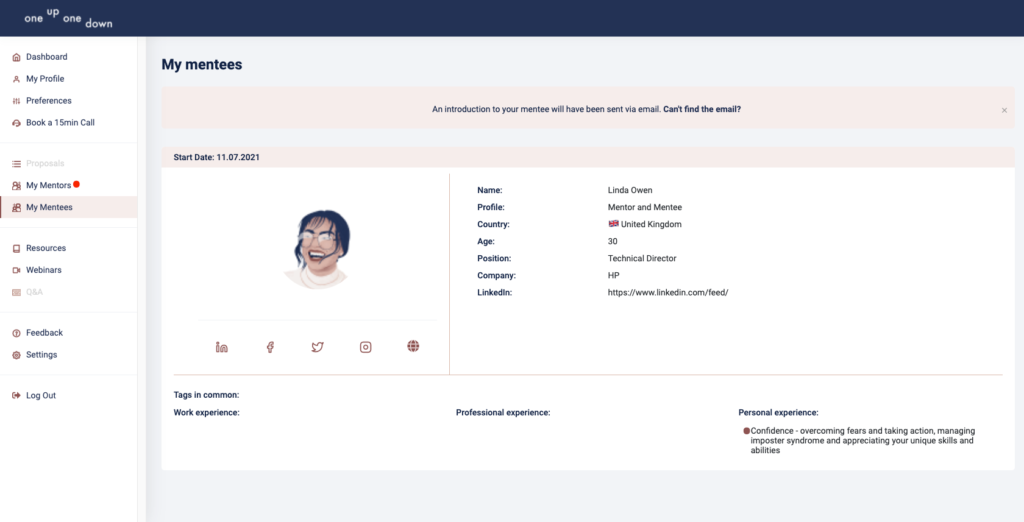 Thank you for your ongoing support!
---
Follow OneUpOneDown on Facebook, LinkedIn, Twitter and Instagram to stay tuned with the latest news.