Our mission at OneUpOneDown is to help women develop themselves through mentorship. This development comes directly from the support and advice shared by a mentor and, as importantly, from the experience that showing up as a mentor or mentee has on both participants – not only the specific knowledge shared but also the connection and practices that mentorship promotes.
Similar to the practice of meditation, the benefits realised through mentorship flows into many areas of life. Whereas meditation helps to improve a person's ability to manage themselves, the practice of mentorship can help a person improve their ability to interact with and relate to others. In doing so, a person can learn a lot about themselves.
These consistently valuable experiences can be achieved through mentorship when both mentor and mentee can show up for the relationship with a mindset and way of being that promotes capability and connectedness.
In our webinar series, The Dance of Mentor and Mentee, Cathy Scharetg graciously addresses the shared characteristics of a mentor and mentee that create this favourable state and the flow that enables a mentorship relationship to become transformational.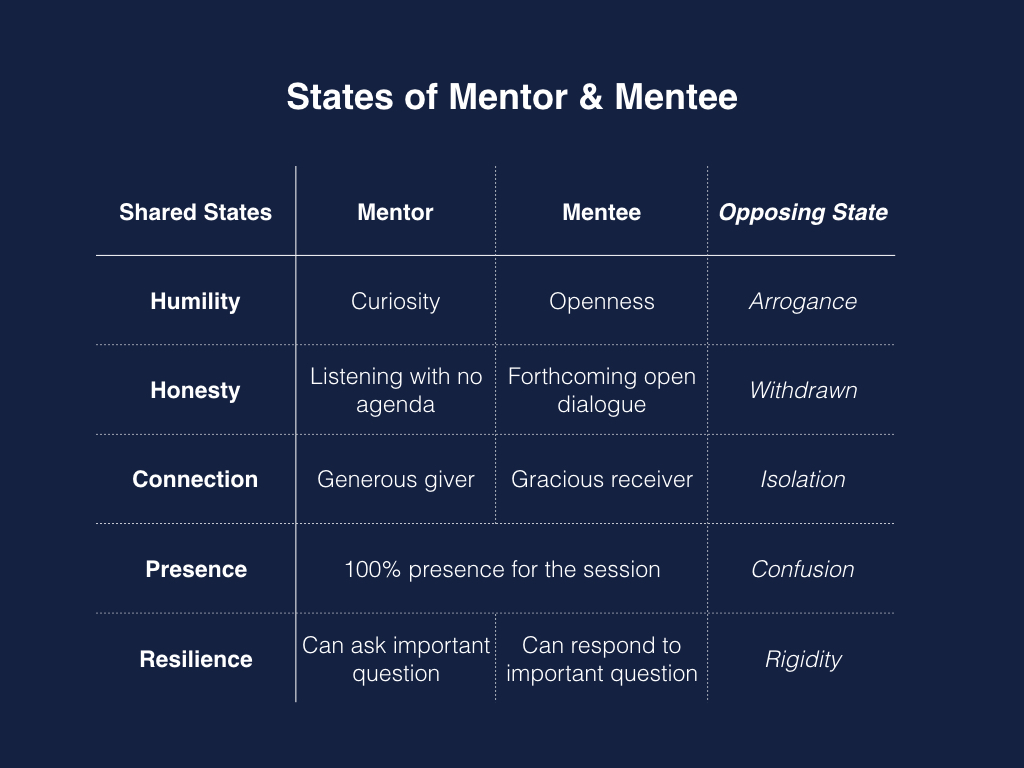 "If you're on this call, I can only imagine it's because you are looking for the blend of being capable and connected…[As mentors and mentees] we are capable and confident as an individual, understanding and developing our relationship to other people. That's the dance, the flow, the integration that we're in [as mentors and mentees]" – Cathy Scharetg.
If you have signed up as a OneUpOneDown mentor or mentee, you can find the link to the webinar recording in our shared Facebook group 'OneUpOneDown Mentors and Mentees'.
We will be delving into the characteristics shown in the image above in more detail in future blog posts.
---
Follow OneUpOneDown on Facebook, LinkedIn, Twitter and Instagram to stay tuned with the latest news.